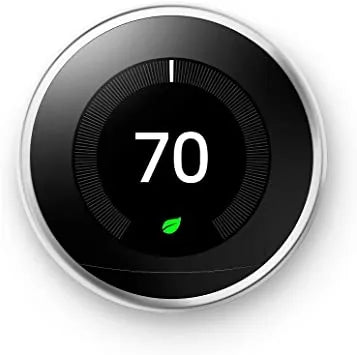 Planet Protector.

Relax! We've got you covered.
A professional should install the Nest Learning Thermostat. A Nest Pro will install it in the right location, connect the Heat Link, and set it up for you. Nest Stand is sold separately.
Control your hot water.
Now, you can control your hot water tank with the Nest Learning Thermostat. It has a hot water schedule — just adjust it from the Nest app. You can boost the heat to have extra hot water if you want it. And when you're away from home for a few days, you don't have to remember to turn off the hot water. The Nest Learning Thermostat will do it for you.
Quick view.
Press the display and turn the ring. You'll see a summary of what your thermostat is up to, and you can reach Settings, Energy History, or your schedule.
Control from anywhere.
With the Nest app, your thermostat lives on your wall and in your pocket. Once you connect your thermostat to Wi-Fi, you can control it from anywhere. Adjust the temperature from the app, and the Nest Learning Thermostat adjusts quickly back at home.
Specifications:
| | |
| --- | --- |
| Assembled unit | 8.3 cm diameter |
| Height | 3.0 cm |
| Display | 8.4 cm diameter |
| Height | 2.7 cm |
| Base | 7.6 cm (2.9 in) diameter |
| Height | 1.1 cm |
| Assembled unit | 243.7 g |
| Display | 205.4 g |
| Base | 38.3 g |
Other Features:
| | |
| --- | --- |
| Colour | Stainless Steel |
| Display | 24-bit colour LCD480 x 480 resolution, 229 ppi2.0 in (5.3 cm) diameter24-bit colour LCD480 x 480 resolution, 229 ppi2.0 in (5.3 cm) diameter |
| Sensors | Temperature: HumidityProximity: OccupancyAmbient light: Magnetic (for thermostat ring position) |
Compatibility:
The Nest Learning Thermostat is compatible with many central heating systems, including:
Combi boilers
System and heat-only boilers
Domestic hot water tanks
Hydronic underfloor systems
Air-source and ground-source heat pumps (heating only)
Zoned systems (one Nest Thermostat per zone)
Heating systems with OpenTherm technology 
Warranty: 3 months