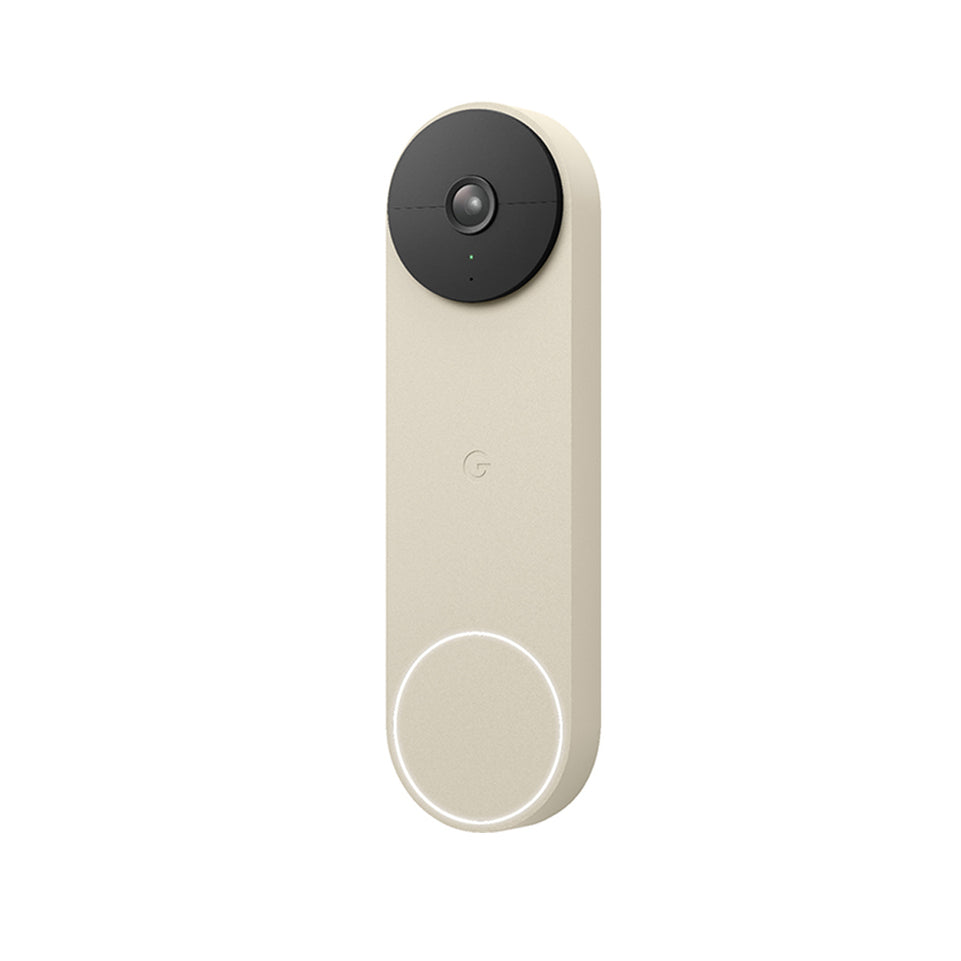 App:

Requires the Google Home app and a Google Account – not compatible with the Nest app or the home.nest.com site.
Voice Assistant:
Works with compatible Google Assistant and Amazon Alexa-enabled devices
Specifications:
Dimensions

Width: 46 mm (1.8 in)

Depth: 24.1 mm (0.95 in)

Height: 160 mm (6.3 in)

Weight

206g (7.3 oz)

Camera

1/3-inch 1.3-megapixel colour sensor 6x digital zoom 3:4 aspect ratio

Video

HD, 960 x 1280 pixels, up to 30 FPS
24/7 live view
Night vision
HDR
H.264 encoding

Audio

High-quality speaker and microphone
Two-way audio with noise cancellation

Field of view

145° diagonal

Lights

White LED status light ring

RGB LED status light

Sensors

PIR (motion and proximity sensor)
Magnetometer

Night Vision

See up to 3.05 meters
4 850 nm infrared LEDs with IR cut filter

Wireless

802.11b/g/n (2.4 GHz)
WEP, WPA, WPA2, WPA3 encryption supported
Bluetooth low energy (BLE)

Security

On-device ML
Secure boot
Automatic security updates
128-bit AES with TLS/SSL

Power

Built-in rechargeable Li-Ion battery, 6 Ah, 3.65 V. Learn more at g.co/nest/camlife.
Or use existing wiring for chime and recharging

- Voltage: 8–24 VAC
- Power: 10 VA
- Frequency: 50-60 Hz

Operating temperature

–20°C to 40°C (–4°F to 104°F)

Charging temperature

0°C to 40°C (32°F to 104°F)

Weather resistance

Weather resistant IP54

Relative humidity range (20% to 85%)
Video history:
The Nest Doorbell (battery) includes three-hour event video history. You can upgrade to 30 days of event video history with a Nest Aware subscription or 60 days of event video history with Nest Aware Plus. However, whether you choose battery or wired installation, the Nest Doorbell (battery) cannot continuously record a 24/7 video history. Google Nest offers other cameras and wired doorbells that can record 24/7 video history with a Nest Aware Plus subscription.
Chime and compatibility
Battery installation:
If you choose battery installation for your Nest Doorbell (battery), you can get a notification on your phone and on your Google Assistant-enabled speakers and displays when someone presses the button. Your existing wired doorbell chime will not ring.
Sustainable materials:
The Nest Doorbell (battery) is sustainably designed with 45% recycled content across its plastic parts.
What's in the box
Nest Doorbell (1 pack)
1 Nest Doorbell
1 base plate
Release tool
2 wall anchors
2 wall screws
Wire connector
20° wedge
Spacers
Wedge screws
Charging cable (1 metre)
Quick start guide
Safety and warranty document
Doorbell power:
Rechargeable battery (included), or existing doorbell wires (8–24 VAC, 10 VA, 50/60 Hz transformer). Wired installation will still require charging the battery indoors with charging cable when temperatures fall below 0°C/32°F.
Warranty: 6 months