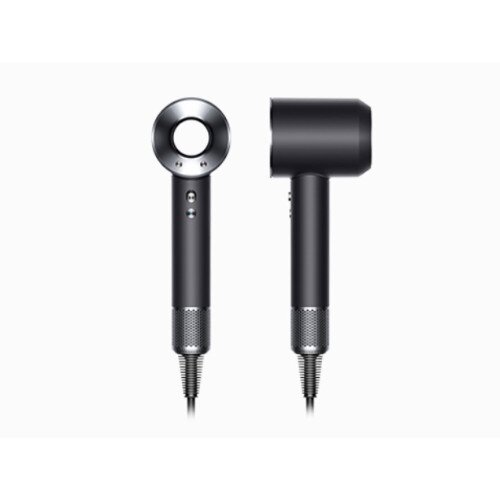 Dyson Supersonic™ hair dryer HD08 
Five styling attachments. Including the new Flyaway attachment.
Intelligent heat control.
Styling Options:
Styling concentrator
The wider, thinner design of the re-engineered Styling concentrator creates a high-velocity blade of air that's perfect for styling. And because the air is focused, you can style one section at a time – without disturbing the rest.
Flyaway attachment
The ideal finishing tool for sleek, straight styles. Hides flyaways under longer hair to give you a smooth, shiny finish with just air.
Diffuser

Re-engineered to disperse air more evenly around your curls, the Diffuser simulates natural drying, helping to reduce frizz and define curls and waves. Longer prongs allow you to style more hair with greater control – and reach deeper into the hair.
Gentle air attachment
Engineered to be kinder to fine hair and sensitive scalps, the new Gentle air attachment diffuses the air, creating a gentle, cooler airflow – while still drying hair fast.
Wide-tooth comb
Engineered for curly and textured hair, the new Wide-tooth comb attachment has robust teeth to help lengthen hair as it dries, or create volume and shape.
Key Controls
3 precise speed settings
4 precise heat settings
Cold shot
Specifications:
| | |
| --- | --- |
| Cord length |  1.80m |
| Height | 288.30 mm |
| Length | 97.84 mm |
| Width | 76.97 mm |
| Weight | 0.55kg |
    
Instructions:
We recommend starting with the lowest heat setting (28°C cold setting) with a high-speed setting. Adjust the temperature if need be: lower temperatures for finer hair and higher heat for thicker hair types.


Hold it at the top of your head until your hair is attracted to it. Then slowly run it along the length of your hair without pressing down on it.


To style the back, rotate the attachment 45 degrees and slowly run it down the back of your head. Use the cool edges to attach, rotate or remove the attachment.


The Flyaway attachment can also be used to create flicks at the ends of your hair, if desired. If not, avoid running the attachment to the ends of your hair, or go over the ends using the 28°C cold setting (cold shot).